And being thus overcome with the Spirit, he was carried away in a vision, even that he saw the heavens open, and he thought he saw God sitting upon his throne, surrounded with numberless concourses of angels in the attitude of singing and praising their God.
He saw God…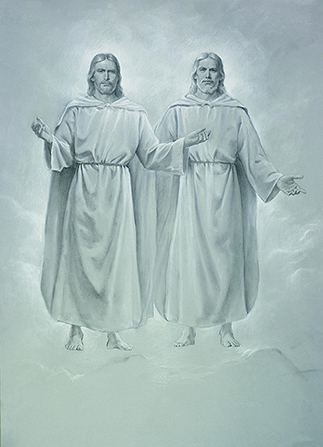 With the help of the next verses, I gather that Lehi saw a vision of God the Father, with angels all around, and that Jesus Christ was among the angels, and He (Jesus) came down, with his twelve apostles following behind. Finally, Jesus comes to Lehi and gives him a book.
I only jump ahead like that to illustrate here that it appears that it really was God the Father (not Jehovah) that Lehi saw sitting on the throne.
If I'm correct about that understanding, then this was a rare opportunity for Lehi. Even among prophets, seeing the Father during mortality isn't common. What do we know about the opportunity to see the Father, either in vision or by visitation?
Can a Person See God?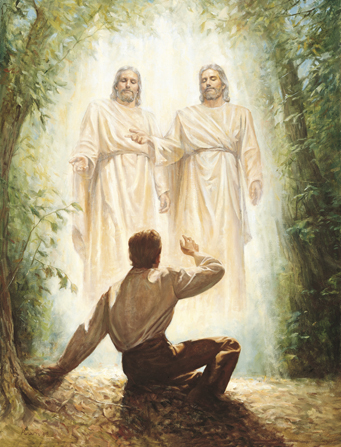 Some outside our faith argue that a person can't see God and site the scripture, "No man hath seen God at any time; the only begotten Son, which is in the bosom of the Father, he hath declared him." (John 1:18). But Joseph Smith clarified this verse when he presented the correct translation of the verse: "And no man hath seen God at any time, except he hath borne record of the Son; for except it is through him no man can be saved." [1]JST John 1:19
John 4:12 says, "No man hath seen God at any time. If we love one another, God dwelleth in us, and his love is perfected in us," but again Joseph Smith gives us a better translation, "No man hath seen God at any time, except them who believe…"
There is a verse in Exodus that says, "And he said, Thou canst not see my face: for there shall no man see me, and live." (Exodus 33:20) but the Joseph Smith Translation clarifies, "And he said unto Moses, Thou canst not see my face at this time, lest mine anger be kindled against thee also, and I destroy thee, and thy people; for there shall no man among them see me at this time, and live, for they are exceeding sinful. And no sinful man hath at any time, neither shall there be any sinful man at any time, that shall see my face and live."
Yes, a person can see God, but like I said, seeing the Father is a very rare blessing.
Who Can See God the Father?
These inspired scripture revisions may give us some of the biggest clues to who may have the opportunity see God. According to the three verses cited above, three qualifiers of those who can see God include:
They bare witness of the Son of God.
They believe.
They have no sin.
Obviously, prophets aren't perfect, but through repentance, they can be cleansed of sin, like the rest of us. Perhaps that last one is the reasons many heavenly visitations begin with the words like, "Thy sins are forgiven thee." They are forgiven, and then they see God. [2]In one account of the first vision, these were the first words Jesus said to Joseph after the Father introduced Him to Joseph. "Joseph, my son, thy sins are forgiven thee. Go thy way, walk in … Continue reading
What other qualifiers have people had to meet before they could see God?
I've put the qualifier phrases in italics:
Which Prophets Have Seen the Father?
Though a great many of the prophets have seen Jesus Christ (who is Jehovah, God of the old testament), a few have seen The Father.
Adam and Eve–in person, in the garden of Eden [9]Moses 4
Lehi–in a vision of God on His throne [10]1 Nephi 1:8-11
Alma the younger–in vision, after the angel comes, right after he calls out for Jesus [11]Alma 36:22
Stephen–in a vision of God on His throne, with Jesus at His right hand.[12]Acts 7:55-56
Joseph Smith–in person, in the first vision, (better named, the first visitation) [13]JSH 1:16-17
Others in the early history of the church:
Zebedee Coultrin was interviewed regarding the following incident that took place in the school of the prophets in the Kirtland Temple:
Joseph having given instructions, and while engaged in silent prayer, kneeling…a personage walked through the room from East to west, and Joseph asked if we saw him. I saw him and suppose the others did, and Joseph answered that this was Jesus, the Son of God, our elder brother. Afterward Joseph told us to resume our former position in prayer, which we did. Another person came through; He was surrounded as with a flame of fire. [I] experienced a sensation that it might destroy the tabernacle as it was of consuming fire of great brightness. The Prophet Joseph said this was the Father of our Lord Jesus Christ. I saw him….

He was surrounded as with a flame of fire, which was so brilliant that I could not discover anything else but his person. I saw his hands, his legs, his feet, his eyes, nose, mouth, head and body in the shape and form of a perfect man. He sat in a chair as a man would sit in a chair, but This appearance was so grand and overwhelming that it seemed that I should melt down in His presence, and the sensation was so powerful that it thrilled through my whole system and I felt it in the marrow of my bones. The Prophet Joseph said: "Brethren, now you are prepared to be the apostles of Jesus Christ, for you have seen both the Father and the Son and know that They exist and that They are two separate personages. [14]3 October 1883, Salt Lake School of the Prophets Minute Book 1883
Everyone Who Inherits the Celestial Kingdom Will See God
We are genuinely children of God, and deep down, we know Him well. He's our Father, and we are well acquanted with Him. Brigham Young explained,
"I want to tell you, each and every one of you, that you are well acquainted with God our Heavenly Father, or the great Elohim. You are all well acquainted with him, for there is not a soul of you but what has lived in his house and dwelt with him year after year; and yet you are seeking to become acquainted with him, when the fact is, you have merely forgotten what you did know.
"There is not a person here to-day but what is a son or a daughter of that Being." [15]Discourses of Brigham Young, p. 50.
We need not be troubled that we don't see the Father now. In the end, all of the faithful will see God.
…there is a space between death and the resurrection of the body, and a state of the soul in happiness or in misery until the time which is appointed of God that the dead shall come forth, and be reunited, both soul and body, and be brought to stand before God, and be judged according to their works.[16]Alma 40:21
That will be a glorious experience. Ezra Taft Benson said,
"Nothing is going to startle us more when we pass through the veil to the other side than to realize how well we know our Father [in Heaven] and how familiar his face is to us."  [17]Jesus Christ-Gifts and Expectations," in Speeches of the Year, 1974, Provo: Brigham YoungUniversity Press, 1975, p. 313.
If we're living right, it really doesn't matter if it's  in this life or the next. There is no point in laying eyes on Him just to prove He exists. Now is the time to exercise faith in Him.
Lehi's Prayer was a Selfless One
Lehi saw a vision of the Father and the Son, not because He asked for that blessing, but because his prayer was an unselfish one, on behalf of His people. There is power in praying for others. David A. Bednar:
We learn a vital lesson from the example of Lehi in the Book of Mormon. Lehi responded in faith to prophetic instruction and warnings concerning the destruction of Jerusalem. He then prayed unto the Lord "with all his heart, in behalf of his people" (1 Nephi 1:5; emphasis added). In answer to this fervent prayer, Lehi was blessed with a glorious vision of God and His Son and of the impending destruction of Jerusalem (see 1 Nephi 1:6–9, 13, 18). Consequently, Lehi rejoiced, and his whole heart was filled because of the things which the Lord had shown him (see 1 Nephi 1:15). Please note that the vision came in response to a prayer for others and not as a result of a request for personal edification or guidance.[18]David A. Bednar, Pray Always, LDS General Conference, October 2008, Saturday Afternoon
.
.
.
.
.
- - - - - - - - - - - - - - - - - - - - -
Chas Hathaway is the author of the books Scripture Study Made Awesome, Marriage is Ordained of God, but WHO Came Up with Dating? and Giraffe Tracks. Learn more at chashathaway.com.
Please participate in the conversation by adding comments and sharing with friends on the web!
Gospel Living Made Awesome is not an official work of the Church of Jesus Christ of Latter-day Saints. If Chas says something stupid, it's his own fault.
↑

1
JST John 1:19

↑

2
In one account of the first vision, these were the first words Jesus said to Joseph after the Father introduced Him to Joseph. "Joseph, my son, thy sins are forgiven thee. Go thy way, walk in my statutes, and keep my commandments. Behold, I am the Lord of glory. I was crucified for the world that all those who believe on my name may have eternal life. Behold, the world lieth in sin at this time, and none doeth good, no not one. They have turned aside from the gospel and keep not my commandments. They draw near to me with their lips while their hearts are far from me, and mine anger is kindling against the inhabitants of the earth to visit them according to their ungodliness and to bring to pass that which hath been spoken by the mouth of the prophets and Apostles. Behold and lo, I come quickly, as it [is] written of me, in the cloud clothed in the glory of my Father." See Richard L. Anderson, Joseph Smith's Testimony, General Conference April 1996

↑

3
Doctrine and Covenants 67:11

↑

4
John 6:46

↑

5
Doctrine and Covenants 97:16

↑

6
Doctrine and Covenants 88:68

↑

7
Matthew 5:8

↑

8
D&C 76:114-118

↑

9
Moses 4

↑

10
1 Nephi 1:8-11

↑

11
Alma 36:22

↑

12
Acts 7:55-56

↑

13
JSH 1:16-17

↑

14
3 October 1883, Salt Lake School of the Prophets Minute Book 1883

↑

15
Discourses of Brigham Young, p. 50.

↑

16
Alma 40:21

↑

17
Jesus Christ-Gifts and Expectations," in Speeches of the Year, 1974, Provo: Brigham YoungUniversity Press, 1975, p. 313.

↑

18
David A. Bednar, Pray Always, LDS General Conference, October 2008, Saturday Afternoon